Differential Pressure Gauge,
Type DP900
Characteristics
high operating safety
robust, compact design
pressure resistant up to 350 bar
easy maintenance
flow direction selectable
drag indicator as standard
Dual scale bar / psi or mbar / kPa universally applicable
selectable display indicating range
Options
Einsatz für Helium auf Anfrage
Kunststoffgehäuse
Edelstahlgehäuhelium application on demand
plastic housing
stainless steel housing
static pressure max. 450 bar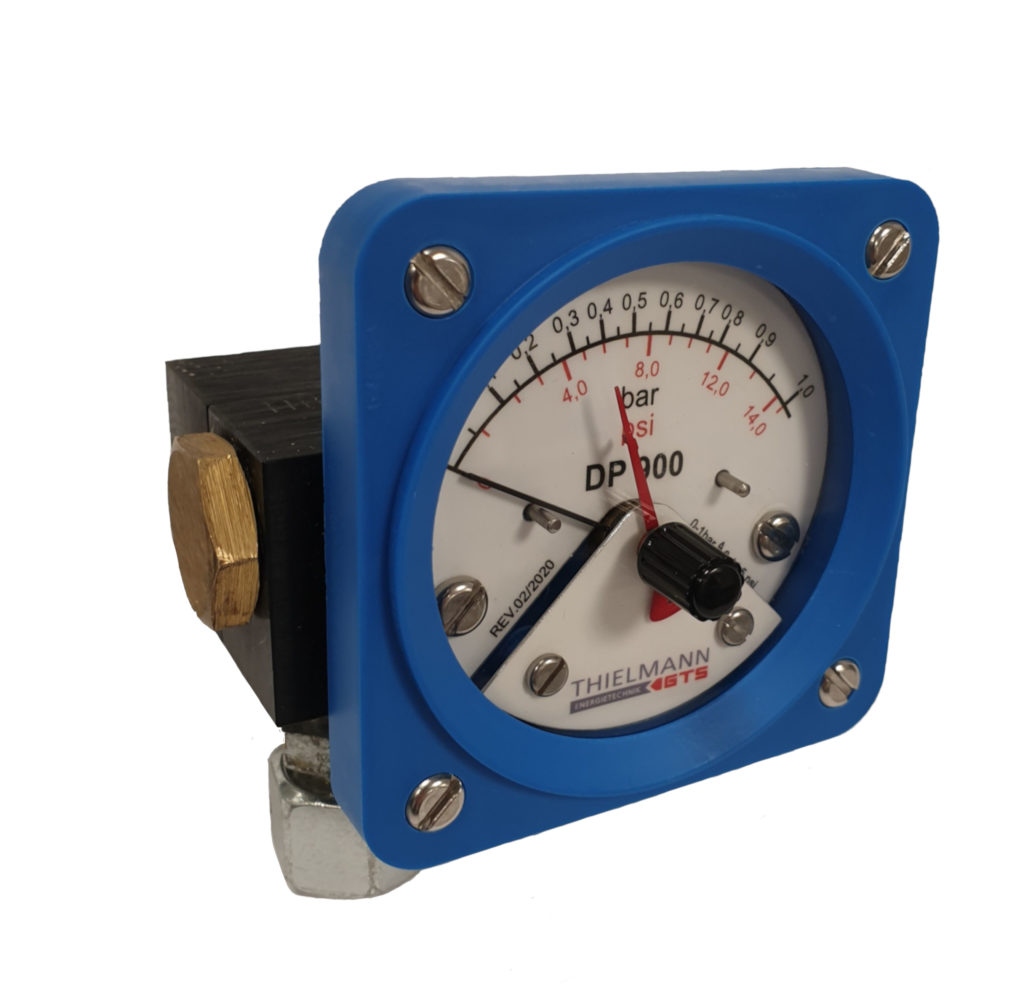 General
The differential pressure gauge DP 900 serves to monitor the differential pressure of filter systems, measuring systems, valves, coolers, heat exchangers, in petrochemical, as well as in gas and air systems. Preferably, the DP 900 is applicable for air and gas technical systems.
The gauge housing made from aluminum is designed compact and robust. It is pressure-resistant up to 350 bar.
Function
A determined path of a freely movable piston measures the differential pressure. The piston retains against a compression spring. The magnetic spool-measuring device unit is been installed to the main housing.
The transfer of the piston path to the scale results by magnetic measuring method. A magnet attached to the drag follows a magnet integrated into the spool. Each position of the spool dedicates a scale constant. This principle of measurement value transmission guarantees an absolute separation of the measured value and the display and prevents leakage to the outside. A drag pointer indicates the maximum differential pressure to monitor and control the system. All devices are equipped with a double scale.
Quality management
DIN EN ISO 9001 certified
Accessories
on demand
Reed contact, protection class IP 67
special scale
(EX) i separation stage – 1-, 2-channel
Bypass – valve block
with / without integrated filter
with / without mini measuring connection
fine filter / pre-filter
protection housing, class IP 65
Swagelok connectors
fitting installation kits, completely pre-mounted to install to our vessels